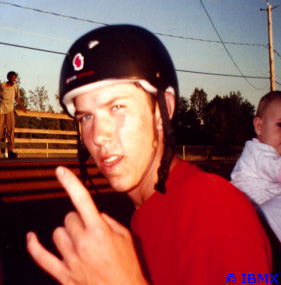 Name: Chris Orbell

Nickname: Ghost Rider

DOB: October 25, 1984

Hometown: Niagara Falls, Ontario, Canada
Riding Since: 1998

Bike: S&M Bennett

Bio: Chris is one of the hardest working riders in bmx. His dedication to the sport is phenominal and when he is not spending countless hours in the saddle learning the most technical tricks and riding the strangest of obstacles on street, Chris can be found in the bike shop (I mean garage) rigging up functional bikes. He is our personal bitch a.k.a bike mechanic. Watching this kid grow up over the years, has made my times so much more enjoyable. He not only tries 110% of the time he is out, but he motivates other riders 110% to learn more tricks and keep up to the sport that he has now taken over. It is getting harder not to be left behind with Chris on a bike! Chris is silky smooth at whatever he does, as long as it is on a 20inch.