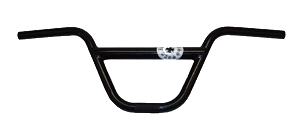 Specs:
Material: 4130 Chromoly
Colours: Black, Blue, Grey
Design:
7.0" rise
.083" tube thickness
25" wide
IBMX Rating:A+
---
The Solid Iron Cross are the phatest two piece bars ever made. They are low, narrow and have a 1" crossbar. The bars have a little bit of sweep and are heavy as hell, but you will get use to it because they're strong as the devil for street and dirt.