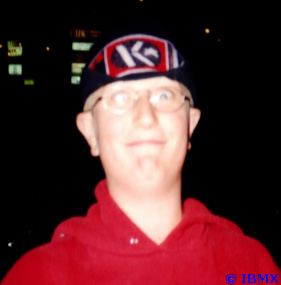 Name: Ivan Rudman

Nickname: Yoda

DOB: August 29,1987

Hometown: Niagara Falls, Ontario, Canada
Riding Since: 1999

Bike: S&M NG Dirtbike

Bio: What can I say about Ivan a.k.a Yoda. You ask where the hell did he get that nickname? Well, just look at those funny ears of his. They're alot of fun to flick! Want to know more about Ivanski? Well, the kid is fat, yet somehow he manages to ride and still function his bicyclette. He also some how runs a tab at Gino's Pizzeria. When you don't find him there, he can be found eating a Big Mac at McD's. Another interesting fact is his mom is crazy. That's a whole other story. Just don't get on her bad side! He is definitely an up in comer in the sport, as he progresses on every daily ride! He is only in Grade 8 and he is pulling some of the highest grinds with ease, it's hard to think what he will be doing 2 years from now (Playing Playstation and in the meantime shoving his face full of food!).